Data Gadgets for E-shops
Data Feed Editor
On Average, You'll Save
20,000/month
More Automation = Less Manual Clicking
Tens of hours of work for a person, a breeze for Conviu
Why hire a programmer when you can professionally edit data feeds yourself effortlessly? You set the rules – leave the rest to Conviu. It processes the data multiple times a day, whenever needed, creating a complete feed (usually XML or CSV) delivered wherever you prefer.
Conviu
Accepts Data in Any Format
Editing in Conviu According to Your Rules
Neatly Packaged Feed (XML, CSV, JSON)


Effortlessly manage supplier data for your e-shop, distribute data to product aggregators in the Czech Republic and abroad (Heuréka, Zboží, Ceneo, and others), supply PPC systems like Google Ads and Sklik, and connect to marketplaces such as Mall, Alza, Kaufland, Amazon, and more.
Thanks to Conviu, you can establish feed editing rules without any programming knowledge and make edits with ease anytime. The resulting feed is always 100% complete, valid, and accessible (read more in our blog post). You're not reliant on programmer availability – you're in control!
Data Sources and Formats
Conviu supports all product feed formats – typically XML, and also CSV, TXT, XLS, XLSX, or JSON. Mass edits via XLS are straightforward. Data can be imported manually or fetched by Conviu from specific URLs, shared Google Drive files, FTP, or connected through APIs or web services.
Choose your output format: XML, CSV, XLS, XLSX, JSON, or select from pre-configured formats for e-shops (e.g., Shoptet, Upgates), comparators, or online marketplaces.
Supported Formats? It's as easy as .fuk. No Excel magic required...
Editing (Not Only) Product Feeds
Most useful and frequently used editor functions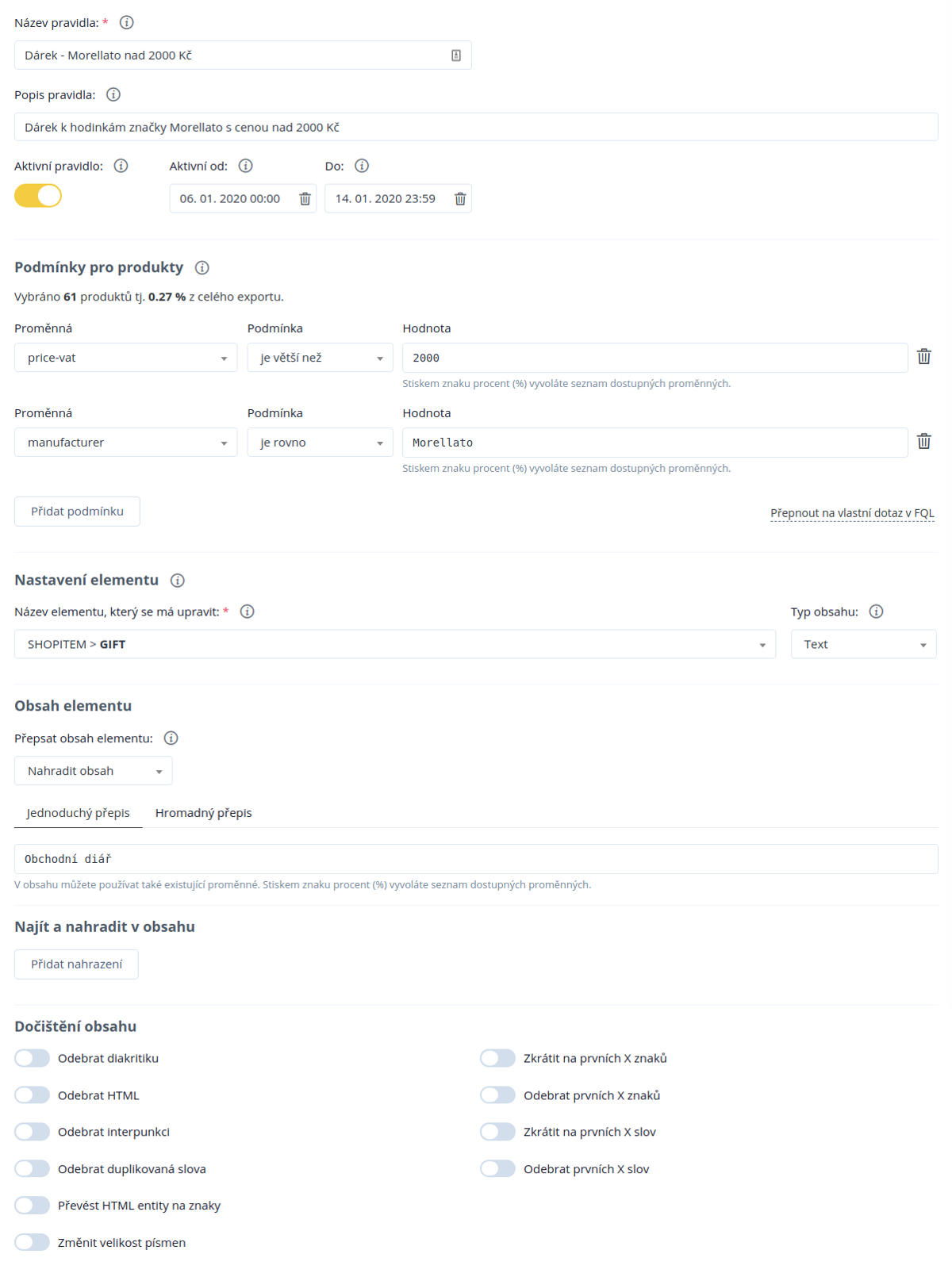 Additional editor features
Everything for simple, smart and efficient e-shop management under one roof
Editor Demonstration
Your programmer doesn't have the capacity? No problem! You can set up rules for editing feeds yourself without knowledge of ones and zeros. Just as easily, you can edit anything at any time. The resulting feed is always 100% complete, valid, and accessible. Easy as pie – take a look at the video.
Additional Features for Working with Feeds
Data updates every hour
Lightning-fast data processing on powerful servers
Task scheduling down to the minutes
Setting a timer for rules (e.g. day and time for starting and ending gift presentation for a product)
Ability to use regular expressions and FQL for complex and extensive rules
Category suggestions not only for Heureka, Zboží, and Google Shopping
Manual bidding setup
Manual pricing setup
Setting up email notifications for things like missing images, EAN codes, credit depletion, decrease in the number of imported items, etc.
Ability to remove images or videos from supplier descriptions using rules – instead of manual deletion in administration
Ability to extract information about size, color, or weight of products from descriptions using rules – instead of manual filling in administration
Frequently asked questions
Are you missing an answer?
What volume of data has the module processed?
The data feed editor has processed:
Data feed editor
Our prices are advantageous for both small and large e-shops. You pay only for the modules that you actually use.
Data feed editor
Tariff:
Number of products in the module:
For another 200 thousand items + 13 EUR.
Why is Conviu the best partner for you and your e-shop?
Saving time, money, tools, people and worries
Less manual clicking, more automation
Full control over the e-shop, prices, and feeds
Speed, reliability, 24/7 availability
Our values
We're all ears

We listen and are open to changes. We adapt development to the needs of the market and customers.

We'll take you under our wings

You're taken care of by specialists, not operators. Count on our helping hand.

11 gadgets under 1 roof

Comprehensive use of data - 11 tools for a more profitable e-shop in one place
Conviu reviews
Who is Conviu already saving time and money for?